It's that time of year again! The silly season is well and truly underway — but what about your oh-so-important Christmas shopping? Some of us in the esmi team are guilty of leaving our Christmas shopping to the last minute (oops) and we understand that some of our community might need a little help finding that special something for their loved ones. 
Enter - the esmi Christmas Beauty and Skincare Gift Guide! For whoever you are buying for this Christmas, whether it's your makeup-obsessed best friend, your classic-skincare Dad or a co-worker you know nothing about, here at esmi we've got you. Now, let's get giving! 


The Best Beauty & Skincare Christmas Gifts
The Have-It-All Mum
Someone that's hard to buy for every year — our Mum! She has everything she needs but doesn't come out of her beauty comfort zone very often, especially when it comes to treating herself. The Ultimate Skincare Duo Box is perfect for any Mum who wants a little extra pep in her skin this Christmas. 
Including a Skin Treat and SkinTrients of your choosing, you can tailor this gift to what your mum deserves more of. Looking for a luxurious option? Choose Strawberry and Rose Oil to brighten her skin and our Inner Detox Skintrients for removing impurities in the body. Or, if she has been complaining about fine lines, why not select our Golden Anti-Ageing Serum and Skin Rebuild Skintrients to fight anti-ageing and increase her confidence?
There's no limit to the combinations you can choose with our Ultimate Skincare Duo Box. Plus it's already boxed! What's not to love? 
A Classic Skincare Dad
Have a Dad who wants to get into skincare but likes a simple routine? This one's for him. This Men's Gift Set is perfect for a Dad (or any man in your life) who likes quality and efficiency in their beauty routine. With this bundle, they will receive a Gentle Gel Cleanser that's ideal for thicker, oily skin and a Lightweight Moisturiser that nourishes the skin whilst keeping it soft and plump. 
With a Men's amenity bag to keep these products together, it's just too easy with our Men's Gift Set.
The I-Can't-Decide Best Friend
We all know that friend who wants to try everything and can never fully decide on their favourite skincare. So, why not treat them to all the options? Our "Mini" collections are perfect for that special someone who gets excited about new skincare no matter their skin type.
Speaking of skin type, these collections are all formulated for specific skin concerns and skin goals including Anti-Acne, Anti-Ageing, Brightening, Detox, Face Masks and Nourishing. With a free beauty bag included in each collection, they can also use these mini's as a key staple for their holiday travels or to keep their mini collection in one place. 
A Colourful Queen
Celebrate the friend or family member who is excited and ready for anything! Our Christmas Joy Box with community favourites will show anyone how much they mean to you both inside and out. Including our PONi Cosmetics White Knight Mascara, Lip Heroes Matte Lipstick and the best-selling Hyaluronic Hydrating Serum (need we say more) this bundle will get their skin ready for the Christmas and New Year's season with gusto!
Plus this gift comes pre-wrapped and ready for when you gift this bundle of joy! Gift the Christmas Joy Box today.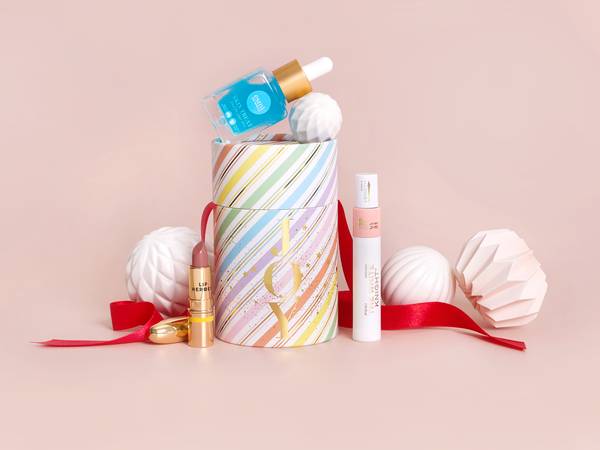 The Jetsetter
For that loved one who just seems to be on a plane or planning a trip 24/7, we recommend the Bonjour Gift Set. With our Hyaluronic Hydrating Serum, Tropical Hydrating Lip Balm and the cutest Bonjour beauty bag, we know this set will come in handy when dry and dehydrated skin just can't be stopped when traveling or on the go! 
Get exploring! This limited edition Bonjour Gift Set won't last long, especially this Christmas season.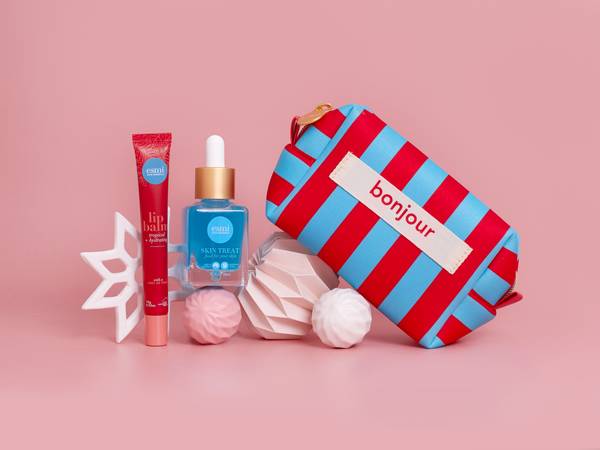 Sensitive-Skin Soldier
Now, if you want to treat someone to esmi products but don't know how their skin will react, we've got it covered. Our Glo Glo Glo Set for sensitive skin is a must for someone who wants (or needs) to strengthen damaged, weak and impaired skin. 
This Glo Glo Glo Set Sensitive includes a Probiotic Skin Mylck Cleanser, Probiotic Skin Mylck Skin Treat and Microfibre Face Cleaning Mitt all formulated to ensure even the most sensitive skin can be gently cleansed to thrive and flourish.
If you love the look of this set but don't need to buy for sensitive skin, we also have similar sets specifically for Hydration and Calming - Glo Glo Glo Set Hydrating and Glo Glo Glo Set Calming.
Still Can't Decide?
If you're having second thoughts about any of these gifts we have some extra seasonal bundles on offer which you can explore here. And, if you've been reading and realised that your loved ones prefer makeup goodies over skincare, be sure to browse our PONi Cosmetic Bundles (great for makeup newbies or pro-artists) and Lip Heroes Bundles for the lipstick obsessed. It's time to get shopping!