Hormone Struck Skin Bundle
Are hormonal breakouts affecting your skin? It is one of the most frequently asked skin concerns we help our esmi...
Safe during pregnancy & breastfeeding
Contains Natural and Plant Derived ingredients
Includes:
The Uncomplicated Cleanser 100ml
A healthy, happy skin routine starts here. Gently removes all traces of foundation and impurities with a double cleanse while calming and protecting skin with aloe vera and camilla leaf extract. Perfect for all skin types and concerns, the cleanser balances skin and won't leave it dry or tight, just clean, calm, and supple.
Hyaluronic Hydrating Serum
The ultimate skin hydrator, this quick-absorbing serum fights dehydration for more hydrated, plumper, repaired skin. Perfect for all skin types and ages, this serum hydrates from the inside out, restores, repairs and reveals healthy skin with a radiant and hydrated glow.
Acai Skin Balancing Face Oil
A lightweight face oil brimming with superfood ingredients to increase elasticity and hydration, reduce redness and regulate oil. Ideal for all skin types, especially oily skin with balance concerns, this nourishing oil can replace moisturiser to improve tone, calm and hydrate while regulating oil flow.
Mini Anti-Redness Minty Green Smoothie 12ml
Lightweight with an energising wild mint aroma, this serum cools and heals damaged, red skin with potent anti-inflammatory, antioxidant and hydrating properties. Suitable for all skin types to treat red, puffy or acne inflamed skin it's ideal to use after laser, IPL or diathermy treatment.
Mini Detoxifying Exfoliating Charcoal Serum 12ml
An exfoliating charcoal serum to gently buff, detox and purify congested skin for a clearer, smoother complexion. Ideal for most skin types tackling blackheads, acne, and underlying skin congestion to draw out impurities, smooth rough skin and polish away pore-clogging debris.
Skin Shield Sunscreen SPF 30
Comfortable, non-greasy SPF coverage for all skin types, especially sensitive skin. Skin Shield Face Sunscreen is easy-to-apply and formulated with additional anti-ageing benefits of carrot root oil, hyaluronic acid, and green tea for hydrated, smoother skin.
esmi Microfibre Headband
An essential accessory for your daily skincare and make-up routine.
What will the cost of shipping be?
All orders receive complimentary standard shipping - no minimum spend! Your order will be sent using Australia Post or DHL and can be tracked. Need your order asap? We have express shipping options available for you for a small fee. For more shipping info click here.

When will my order be sent?
Orders received by 3:00pm, Monday to Friday, will be dispatched the same day! Please note that there may be slight delays in shipping at times of high volume orders. Please also consider public holidays when checking the shipping method. If you have any concerns or questions regarding your order please don't hesitate to contact us.

Can I return the product?
We hope that you will be delighted with your order, however, we do accept returns and are happy to offer you a store credit or exchange. You'll just need to:
1. Contact us within 14 days of receiving the product and
2. Return the item unused and in original, unopened and undamaged condition.
For more information about our Returns Policy click here.
Are these products right for you?
Chat to one of our qualified beauty therapists to find out if these products will suit your skin, and get a personalised skin care routine.
How to use
How to:
AM: Cleanse, apply a pearl-size Hyaluronic Hydrating Serum then apply 2-3 drops Acai Balancing Oil. Follow with SPF/foundation application.

PM: Double cleanse, apply a pea size of the Hyaluronic Serum, then apply 2-3 drops Acai Balancing Oil.

If selected the:
Green Smoothie Serum - Using this once daily under your Hyaluronic Serum. Applying a small amount to areas of breakouts/redness. pAfter two weeks, you can increase to both AM & PM if needed.
Charcoal Exfoliating Serum - Introducing this after 2 weeks. On freshly cleansed skin apply a pearl size of Charcoal Serum to the face and gently massage into the skin. Leave on for 5-10 mins and rinse. After rinsing finish with your normal nighttime routine.
How Often:
Use AM and PM, twice a day.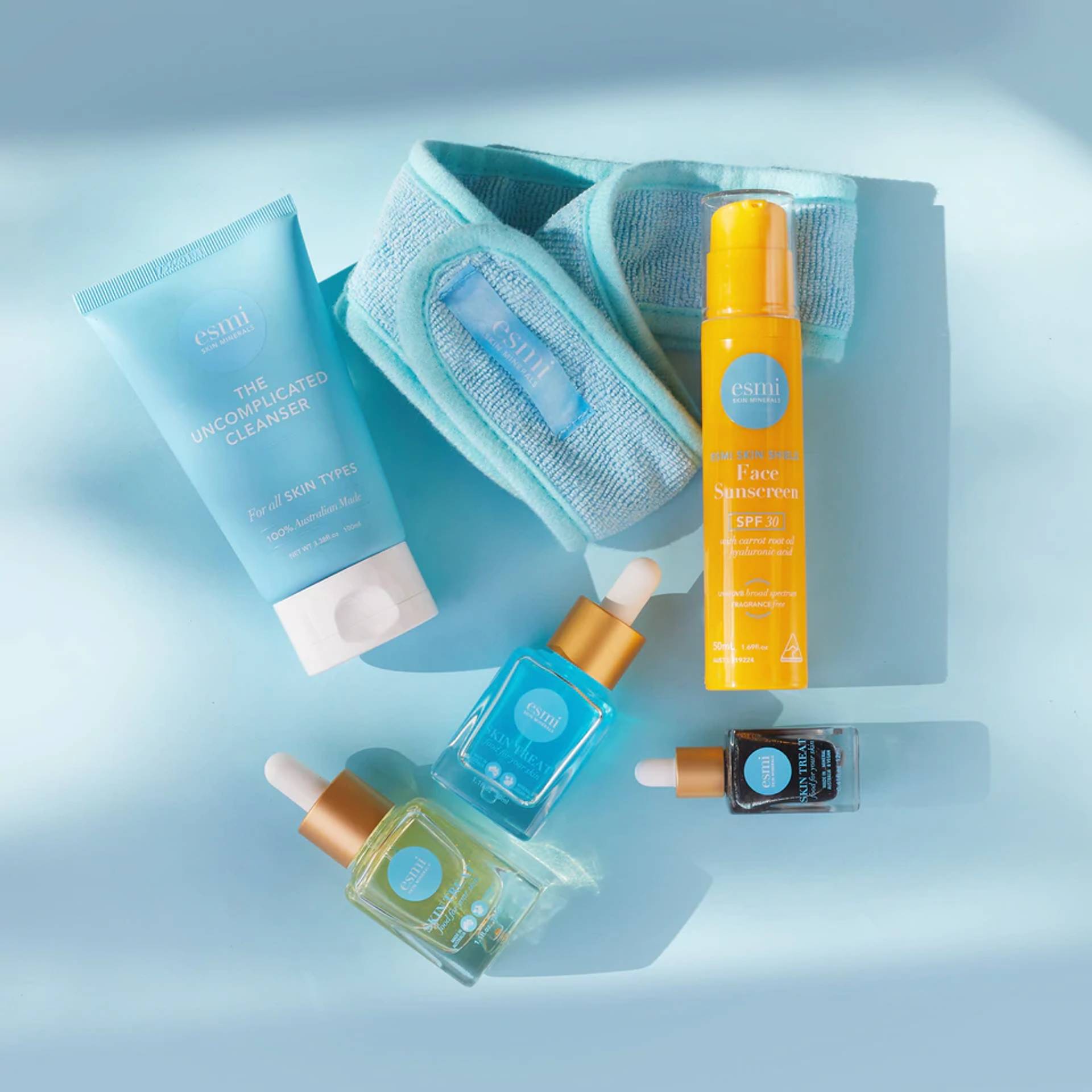 84%
would recommend this product
What is your age?

18 - 24

What is your main skin concern?

Cystic Acne

AMAZING!!

While I have not bought this bundle I have been using all of these products for the last ten weeks. The difference in my skin is AMAZING! I can not recommend this brand enough, I have been telling all my friends about it. For the last two years I have really struggled with hormonal acne on my chin area. Before starting Esmi I had just finished a round of antibiotics for my skin but it hadn't totally cleared it up … this did the job!! Since using these products my cystic acne is GONE and my confidence is back. All of the products last a really long time and for me have been the only thing to work after trying countless brands. Thank you Esmi!!!

I do not recommend this product

What is your main skin concern?

Breakouts

Skin Type

Combination (Oily & Dry)

2 Stars

I honestly wanted to love these products sooo much as I've heard such wonderful things. But unfortunately my skin has not tolerated these products at all. It has caused my skin to be extremely dry, flakey and red. My skin has never reacted to skincare like what I have experienced. The team at esmi were so wonderful at trying to help me including changing up my routine but unfortunately my skin continued to progressively get worse and I have had to cease these products.

ES

esmi Skin

Hi, Thank you so much for taking the time to leave your Review. I believe you have already been speaking with lovely Kirsten from our Skin Service team. If there is anything else we can assist you with though, please do reach out - we are always here to help :-) Kindest, Customer Care | hello@esmi.com.au

What is your main skin concern?

Dullness

5 Stars

Wonderful products! My hormonal acne has cleared and I feel so much more confident in my skin.

What is your main skin concern?

Breakouts

5 Stars

This bundle is a life saver! I suffered from extremely oily skin which lead to acne at all times of the month. After a month of using this bundle religiously has cleared up my face and has controlled the oil. Cannot recommend this bundle enough!

What is your main skin concern?

Breakouts

5 Stars

This bundle was the first ever products I used from esmi and I absolutely love it! It has everything you need for your basic skin routine and leaves you skin feeling hydrated , smooth and glowing !
Reviews Loaded
Reviews Added